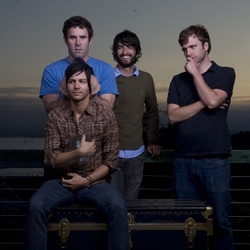 BLACK WHALES.
Black Whales (black * whAYles), n. : Flowers on drugs, warm-hearted spaghetti-westerns, reverb-soaked, tubey riffs in the hay amidst an organized chaos of booming and danceable rhythms, honey-sticky melodics, jangly guitar hooks, tambourines, shaker magic.
Origins , the debut EP from Seattle, WA's Black Whales will get you good. It will hit all of your sweet spots, it will surprise you with its seemingly effortless, effortlessly seamless songwriting. It will cause you, while in the middle of going through your pile of releases, to excitedly remember that brilliant bands that are just at the start of undoubtedly great journeys are indeed sometimes in said pile (this will happen because Black Whales is such a band).
The quintet officially formed in early 2008. With limited dough and loose song ideas, Black Whales entered Soundhouse Recording and Chroma Sound studios with producer Zack Reinig in early 2008 to record together for the first time, and the resulting fire, drive and intuitively addictive nature of their Origins EP both solidified each members' commitment to and excitement about the band. Before, Black Whales were a good idea; a great project—after leaving the studio, Black Whales were a unit. A team. A Band with a capital B.
Thus, Origins' thematic content is twofold: obviously, it's the band's recorded starting point. More importantly, however, it's each member shaking off the past and everything that goes with it. As lead vocalist/guitarist Alex Robert explains, "No memories, no regrets, no heartbreak, no blood. The album is meant to sound wide-eyed and optimistic but with lots of ghosts and memories still hanging around. I guess that's as close as it gets to thematic."
Indeed, on the title track (which starts with a bright, mellow guitar line that is then built upon with echoey toms that are then built upon with more deeply reverbed guitars that sound like they were recorded in a tank across the room), Black Whales' refrain is "I don't owe you anything./I don't owe you anything." They're not being dismissive, just honest, confident, explanatory.
There's so much darkness in their pop, and there's so much brightness in their shade. Black Whales are far from being one-dimensional; they've done what, if one is honest with oneself, only happens rarely: they've found perfect matches and musical foils with each other. They've found an incredibly textural, experimentally off-center, perfectly heart-hitting way of bringing their amazing songs to fruition. Again, quoting Robert: "I think this record shows what kind of music we would have wanted to listen to, before recording it...if that makes sense." It does.
Black Whales are a force recorded. Black Whales are a force live. Black Whales is the kind of band, and Origins the kind of EP, that will reward you for caring about music…and they're just getting started.
LET ME KNOW IF YOU WANT A DIGITAL PROMO, photos (new ones coming soon!), interviews or any such thing, and I will promptly provide.
Have a great wknd. xo joan/riot act.